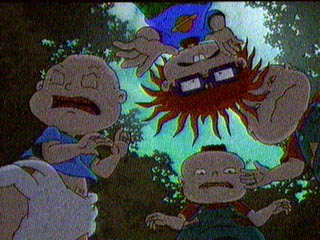 Rugrats
"Lil's Phil of Trash" (episode #164)
Directed by: Jim Duffy
Written by: Vera Duffy
Music by: Mark Mothersbaugh, Bob Mothersbaugh
Debuted on Nickelodeon Oct. 5, 2002

Lil nearly loses twin Phil to his trashy obsession.

Watch the episode!
Favorite line:
Lil (screaming): "You even throwed away a ice cream! A ice cream Phillip!"

Others:
Babysitter Taffy, addressing her would-be "enviro-conscious" suitor.

"Trash is my Bag," written by Vera, performed by Bob Mothersbaugh, sung by Amanda Bynes.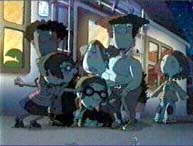 As Told By Ginger
"April's Fools" (episode #31)
Story by: Vera Duffy and Emily Kapnek
Written by: Vera Duffy
Directed by:Tony Bell
Ginger plays an April Fools joke on Dodie by forging a love letter from her to Dustin, a real "individual" who eats sandwiches with chopsticks and speaks in a faux British accent...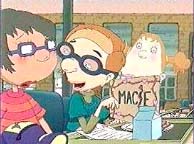 Mike, Lu & Og
1st & 2nd seasons
Mike, Lu & Og was a half-hour series following the adventures of New York native Mike (the readhead), an exchange student on a wacky tropical island with only seven inhabitants. Lu and Og are the other kids. It ran on Cartoon Network from 2000 to 2001. Created by Chuck Swenson, produced by Kinofilm.


First Season
4B: Palm Pet
5B: A Boy's Game
8A: Scopin' it Out
13B: Sneeze Please

Second Season
16B: Hot Dog
19A: For the Love of Mike
21A: Flustering Footwear Flotsam
22A: Alfred, Lord of the Jungle
26A: The Three Amigas