| | | |
| --- | --- | --- |
| | Welcome to our archive of vintage French maid illustrations. | |
"Overleaf are some more suggestions for party or special evening costumes. The French Maid... [is] simple and straightforward enough for anyone handy with a needle."

From John Willie's Best of Bizarre, Taschen

"You simply must make it meet!"

Bizarre
Postcard
Kleiman Card Co. LTD.

"Observe my fair one! Plenty of this--"

Bizarre
| | | | | |
| --- | --- | --- | --- | --- |
| | | More maids by John Willie, from Diary of a French Maid. | | |
"Maid's uniform with matching lace collar, cuffs, ruffled headpiece, and apron. Vogue, 4/27."

From Fashions of the Roaring Twenties, Schiffer Publishing Ltd.

For a more in depth description of uniforms from this period, click here.

"Maid' s uniform of red silk moiré, sheer white collar and cuffs with ribbon trim. (Headpiece and apron recreated using period photographs.) Courtesy of Cedar Crest College, gift of Sue Steiner".

Fashions of the Roaring Twenties.
"The Blancmange Tragedy" from The Awdrey-Gore Legacy

Maids from works of Edward Gorey.

The Curious Sofa

"9" from The West Wing
Esbey's illustrations for works published by Don Brennus Aléra's Select Bibliotheque (1906-1936).

Esbey and Aléra are believed to be one and the same; the publisher's other suspected pseudonyms include the anagrams Roland Brévannes, Bernard Valonnes and Selby.
| | | |
| --- | --- | --- |
| | Thanks to Mr. Dirk for these maids. | |
| | | |
| --- | --- | --- |
| "Plaisirs a Vallee" | Advert for theatrical costumes and accessories | Weimar Berlin Maid |

Above and below: Betty Page (with Tempest Storm)
| | |
| --- | --- |
| | French Maid painted on a bike tank |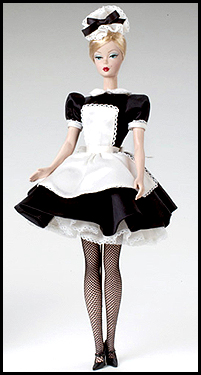 French Maid Barbie Doll
Thanks to Don Spiro, for help in finding many of these illustrations.
Enter the Hall of Shame...
french maid french maid french maid french maid french maid french maid french maid french maid french maid french maid french maid french maid french maid french maid french maid french maid french maid french maid french maid french maid french maid french maid french maid french maid french maid french maid french maid french maid french maid french maid french maid french maid french maid french maid french maid french maid french maid french maid french maid french maid french maid french maid french maid french maid french maid french maid french maid french maid french maid french maid french maid french maid french maid french maid french maid french maid french maid french maid french maid french maid french maid french maid french maid french maid french maid french maid french maid french maid french maid french maid french maid french maid french maid french maid french maid french maid french maid french maid