do you like the Las Poubelle's Theme Song?
Now, lots of yous have been asking me throughout the ages, who the heck is it who made the tight reggaeton exito se llama
"Las Poubelles" theme song.
Now I have a reason to answer your question, yous !
Mark Rivers
is his name and not only is he an accomplished reggaeton artist, he is also the creator of "Let's Fish" a not for kiddies cartoon which will be premiering on Cartoon Network's Adult Swim, and if you let the big-wigs know how much you love it on May 11th, it'll go to series !! SO LET 'EM KNOW !!!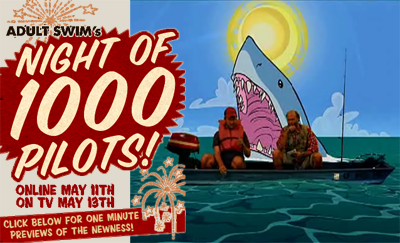 Click here! And vote on May 11th after 6pm!
It's in two parts, so click on the second picture for the second half.
Also, it's airing Sunday 12:30 am on Cartoon Network.
Also, the show stars Scott Adsit from "30 Rock" and Brendon Small who makes the "Metalocalypse". Oh, and Hitler, who is famous but I really wish he wasn't :<
xoxo
Bibi